WAYS TO MAKE YOUR FOURTH OF JULY CELEBRATIONS SPARKLE
As we are set to mark the Fourth of July, there's nothing more American than a backyard barbecue, the perfect combination of food, friends, and raising a glass to toast it all.
As you plan your celebrations, we've got some great ideas to bring some sparkle to the occasion — whether you're hosting or attending.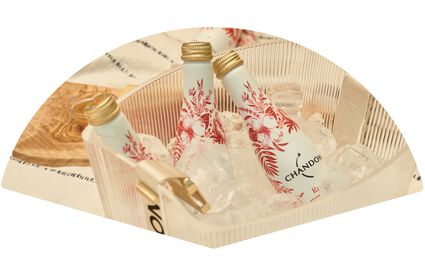 Delight Everyone With a Bucket of Bubbly
A superior sparkling wine is just a twist of a cap away.
Our AluMinis™ are perfectly portable and designed for an on-the-go lifestyle. Ideal for a single serving, you can chill in a bucket of ice and let everyone help themselves to their preferred sparkling wine.
Whether it's the bright tropical, grapefruit, and floral notes of Chandon Blanc or the summer-ready flavors of fresh strawberry, watermelon, and cherry of our Chandon Brut Rosé, we've got your backyard gathering covered.
Bonus points for a mix of red, white, and blue when you get both.

Take that Fourth of July color theme even further with a celebration of colors.
Of course, red, white, and blue decorations are plentiful and easy to find around the Fourth, but you can take it beyond a patriotic tablecloth and incorporate the theme in the food. A simple snackable tray of strawberries, sliced pears, and blueberries can be an understated way to pull through the theme. Or you can really indulge with red velvet mini cupcakes with red, white, and blue frosting.
For the finishing touch, serve up some bottles of Chandon Limited-Edition American Summer Brut in an exclusive bottle that celebrates the spirit of American summer.

Serve Up a Crowd-Pleasing Sparkling Cocktail
Give everyone a taste of Chandon Home with this guest favorite created by our own mixologist. It's a simple shrub cocktail that starts with the bold fruitiness and spicy complexity of Chandon Blanc de Pinot Noir.