For over 40 years, Chandon has shared the spirit of celebration and community through its exceptional sparkling wines crafted from beautiful, sun-ripened fruit of California. In celebration of Pride 2020, Chandon has collaborated with bartenders from the LGBTQIA+ community to create sparkling cocktails inspired by the colors and meaning of the Pride flag. These fresh, bright and bubbly cocktails symbolize the acceptance and togetherness that Pride inspires – and are easy enough for your at-home celebrations with friends and family
1. RED: "Good Times are Calling" By JaQuan Bowser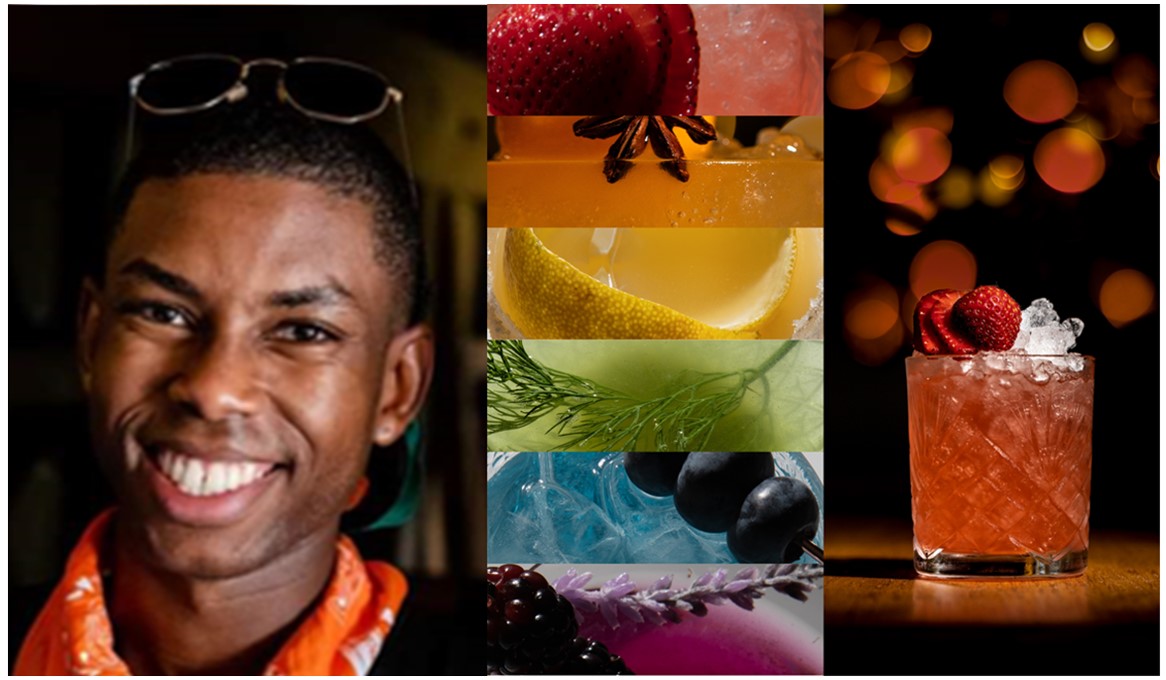 JaQuan Bowser is an accomplished bar manager who loves to develop innovative and delicious cocktails. With two degrees from Johnson & Wales University in Baking & Pastry and Food Management, JaQuan's culinary background served as inspiration for his Proud to Celebrate cocktail "Good Times Are Calling" which highlights the elegant and lively notes in Chandon Rosé.
The red hue of this drink matches the red stripe on the Pride flag which celebrates life. By integrating the flavors of fresh fruit year round through the preservation technique JaQuan uses in making his unique 'Shrub', this cocktail will be full of life — even when berries are out of season




Ingredients

Cocktail

4 oz Chandon Sparkling Rosé
0.5 oz Strawberry and rasberry Shrub
1 oz Camomile Tea Syrup
2 tsp Lime Juice
Splash of Sparkling Water




Strawberry Raspberry Shrub

8 oz Strawberry
6 oz Raspberry
6 oz Sugar
8 oz Apple Cider Vinegar
8 oz Water




Chamomile Tea Syrup

4 Bags of Chamomile Tea
6 oz Sugar
8 oz Water

Instructions

Chamomile Tea Syrup Recipe: Steep the tea in the water for recommended time. Add sugar to warm tea stir until dissolved. Pour into an airtight container. Syrup will hold up to a month.

Strawberry Raspberry Shrub Recipe: Muddle berries with sugar in a bowl. Add to a pot with water and vinegar and bring to a simmer until sugar is dissolved. Strain into an airtight container. Shrub will hold up to a month in the fridge

Cocktail: Build all ingredients (add Chandon last) in rocks glass top with crushed ice and stir. Garnish with strawberry fan.




2. ORANGE: "Summer Sun" By Karina Martinez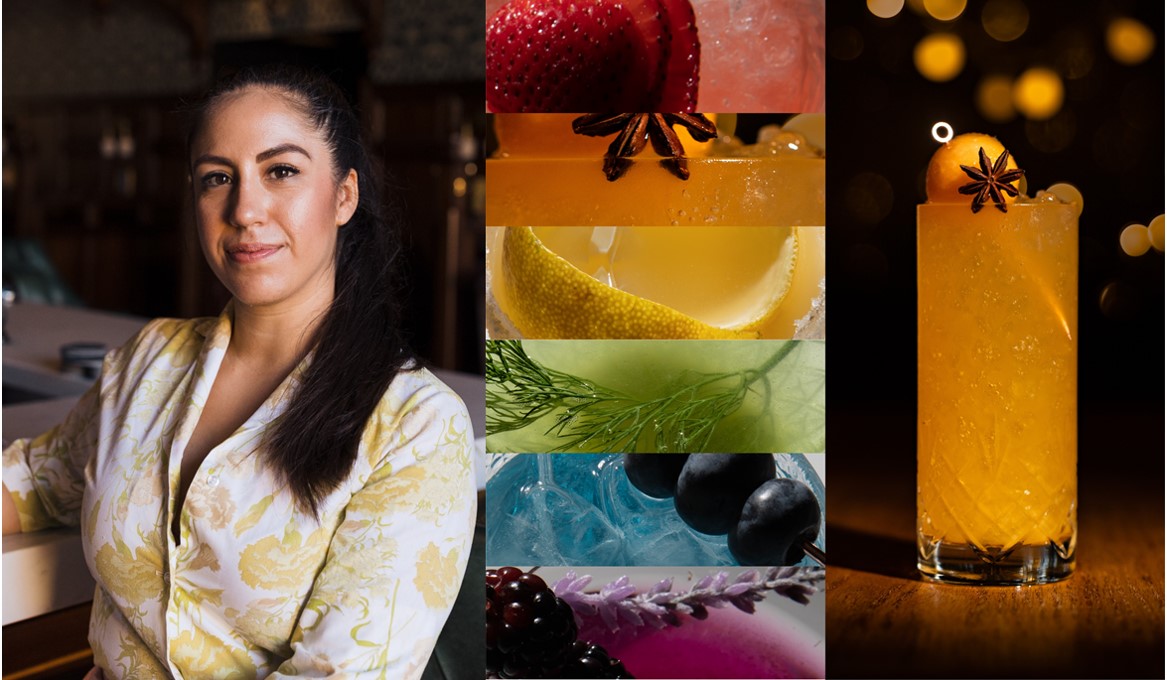 Karina (She/Her) is from Northern California but has lived and worked everywhere from Singapore to San Diego. During a gap year in Cambodia she found herself behind a bar, and realized that she wanted to stay there. From that point on, it was clear that Karina wanted to stay in the hospitality industry permanently, and as always, Northern California's summer sun eventually called her back home.

Orange celebrates healing, and Karina's cocktail "Summer Sun" is a sense memory that invites us all to join her on a porch in sunny Northern California; embodying healing by honoring the past and enjoying the present with refreshing flavors of cantaloupe, balanced with subtle flavors of strawberry, raspberry and red currant found in Chandon Rosé.




Ingredients

Cocktail

3 oz Chandon Sparkling Rosé
3 oz Cantaloupe Juice
3/4 oz Cardamom Syrup
3/4 oz Lemon Juice
Splash of Sparkling Water




Cardamom Syrup

2 cups Sugar
1 cup Water
1/4 cup Whole Cadamom

Instructions

Cardamom Syrup: Bring 1 cup of water and ¼ cup of whole cardamom to a boil. Stir in 2 cups of sugar until fully dissolved. Reduce heat, cover, and simmer for about 15 minutes. Remove from the heat and allow to cool. Infuse in the refrigerator for 3 days, then strain out the cardamom.

Cocktail:Combine all ingredients except for the Chandon Rosé into a shaker tin with ice and shake. Add the Chandon Rosé to the tin and strain into a Hurricane or Collins glass over fresh ice. Garnish with cantaloupe spheres and two pieces of star anise and a tall straw.



3. YELLOW: "They Go Low, We Go Pride" By Jakob Kramer-Jensen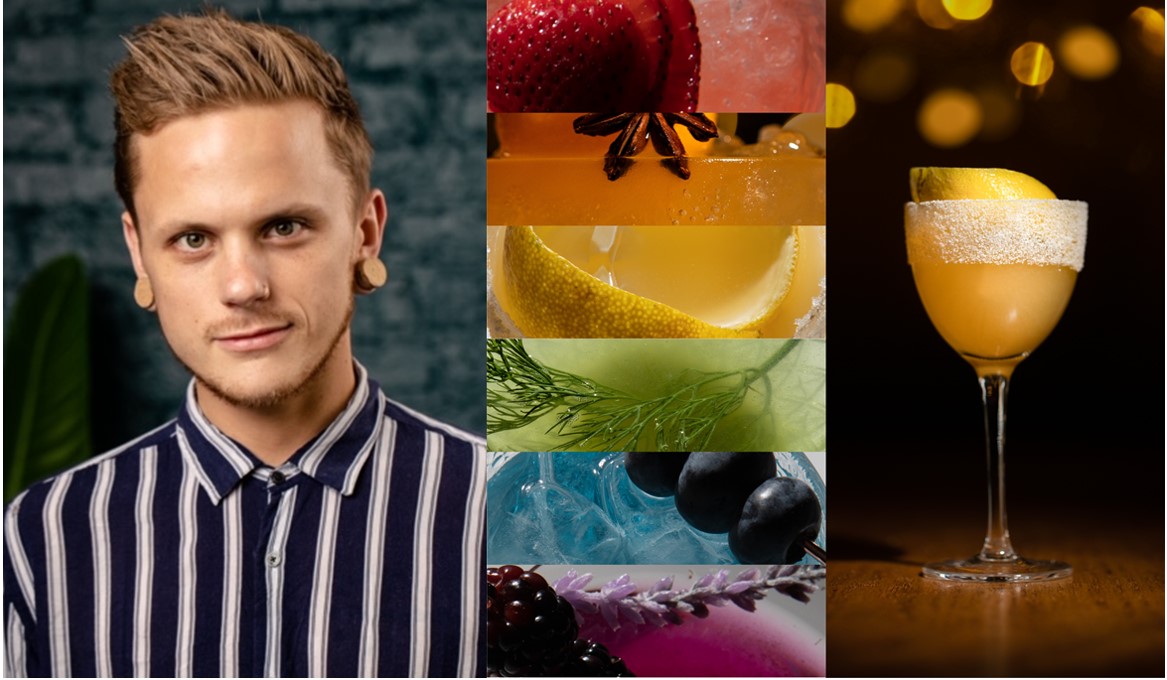 Every aspect of Jakob Kramer-Jensen's (They/Them or He/Him) life is a building block to help push equality forward. When Jakob is not bartending, they are actively working with the ACLU and the Coalition for Criminal Justice Reform to connect those in need with resources in their community. Currently living and working in Chicago, IL, Jakob is a known leader in the Midwest hospitality industry and sees their work in activism and their work behind the bar, as being fundamentally similar. Both challenge them to anticipate and consider the needs of those around them and connect them deeply to the community.

Jakob's Chandon cocktail is a reflection of that work. Yellow represents sunshine on the Pride flag, and "They Go Low, We Go Pride," is sunshine in a glass, even on a rainy day. Pulling in classic summer flavors like sunflower seeds, bell peppers and coconut milk, this cocktail highlights the lively, bright strawberry flavors in the Chandon Rosé and evokes the warm glow of acceptance.



Ingredients

Cocktail

4.5 oz Chandon Sparkling Rosé
1 oz Lime Juice
3/4 oz Yellow Bell Pepper Syrup
3/4 oz Sunflower Seed Golden Coconut Milk
4 Drops Saline Solution



Yellow Bell Pepper Syrup

2 Bright Yellow Bell Peppers
1 cup Water



Sunflower Seed Golden Coconut Milk

1 Tbsp Sunflower Seeds
1 (13.5 oz) Can of Coconut Milk/li>
1 Tsp Ground Turmeric
2 Cinnamon Sticks
1/2 Tsp Black Pepper
1/2 Tbsp Maple Syrup

Instructions

To a small saucepan, add sunflower seeds, and lightly toast for about one minute. Then add coconut milk, turmeric, cinnamon sticks, black pepper and maple syrup. Whisk to combine and warm over medium heat. Heat until hot to the touch but not boiling -- about 4 minutes -- whisking frequently. Turn off heat, and let cool.



4. GREEN: "It's Not Easy Being Green" By Cori O'Connor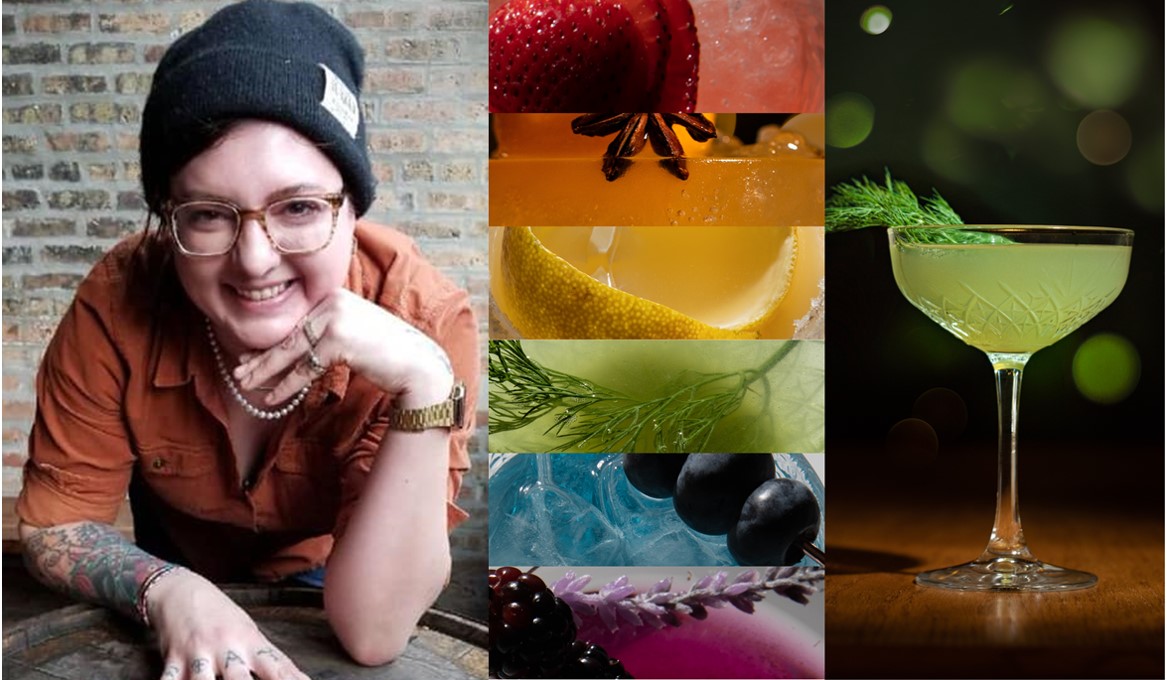 Cori O'Connor (She/Her) belongs to many communities: the queer community, the trans community, the bar community and the Chicago community. In each of those communities, there is a common thread: Cori is a leader, and, often, she is called 'Mom.' Cori's maternal reputation fuels her natural instincts toward kindness, empathy and her ability to multi task. These same skills are what make her an exceptional bartender. She is able to anticipate the needs of her guests, communicate clearly and thoughtfully solve problems all while delivering top tier hospitality and stunning cocktails.

Green represents nature on the Pride flag and "It's Not Easy Being Green" is Cori's ode to her deep connection to the natural world. As a Florida native, Cori grew up surrounded by swamp lands and the color green is embedded in her consciousness. The lush green color, Green Machine juice and dill garnish all evoke vegetable and herbaceous notes, which are balanced by the crisp freshness of apple, pear and citrus found in Chandon Brut, as well as the sweetness of the honey.



Ingredients

Cocktail

1.5 oz Chandon Sparkling Brut
12 Drops Bitterman's Hopped Grapefruit Bitters
12 Drops Saline Solution
0.25 oz Lime Juice
0.5 oz Green Juice
0.5 oz Apple Cider Vinegar
0.75 oz Honey Syrup
Fresh Dill Sprig

Instructions

Honey Syrup: Mix 1 Cup of Honey and 3/4Cup of Warm water in a squeeze bottle. Cover the opening with your finger and shake to blend.

Saline Solution: Mix 4 Tsp of salt with 1/3 Cup of water until it's clear. Keep the solution in a dropper vial until you need it. (Small drops of salt water can reduce bitterness while enhancing the sweet, citrusy flavors in your drinks).

Green Juice: Blend kale, ginger, apples, celery and cucumber in blender until liquified. Strain with fine sieve.

Cocktail: Combine all ingredients except for Chandon Brut into a shaker tin with ice and shake. Strain into a coupe glass and top with Chandon Brut. Garnish with fresh dill.



5. BLUE: "Chandon In Blue" By Al Utt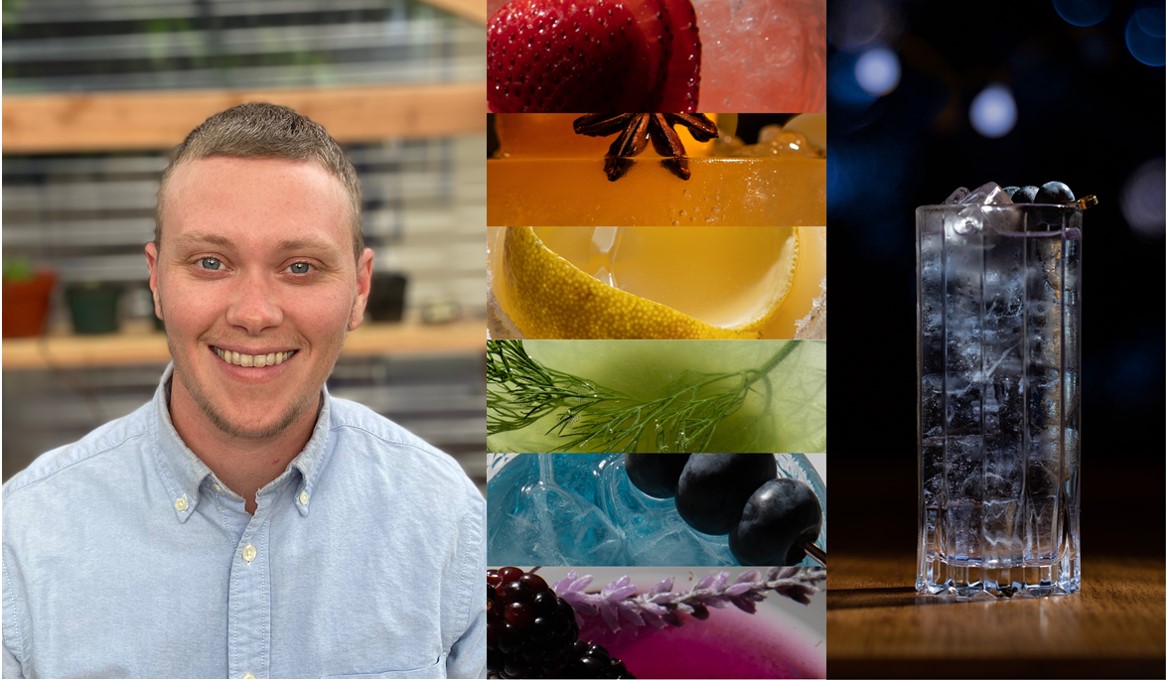 One day, Al Utt (He/ Him or They/Them) will be a mad beverage scientist with beakers arranged in perfect order and a new line of spirits named after Sailor, his cat. But, today, Al is content with his admittedly beautiful life working as a bartender in idyllic Portland, Oregon with a thoughtful partner, supportive mother and brother and that aforementioned cat and best friend of 12 years, Sailor. Al is trans, and he is grateful for the experience of his transition, which has represented both a gift and a challenge in his life. Al uses his transition experience as motivation to heal himself and those around him, and as a lesson in creating harmony.

Blue represents harmony on the Pride flag, and Al's cocktail Chandon In Blue, is truly a harmony of flavors in which the brightness of blueberries are matched perfectly by the playful personality of Chandon Brut and balanced with a dash of bitterness and colorful sweetness of the syrup. The vibrant blue color of the cocktail compliments the natural blue of the blueberry garnish, displaying the harmony of our creations with what naturally occurs.




Ingredients

Cocktail

5 oz Chandon Brut
1 oz Blue Curacao Syrup
2 Dashes of Peychaud's Bitters
2 Dashes Scrappy's Orange Bitters
4 Dashes Chuncho Amargo Bitters
0.25 Cups of Blueberries

Instructions

Build everything except blueberries in tall Collins glass, then top with ice. Garnish with blueberries



6. PURPLE: "Rest Thy Spirit" By Joe Witowski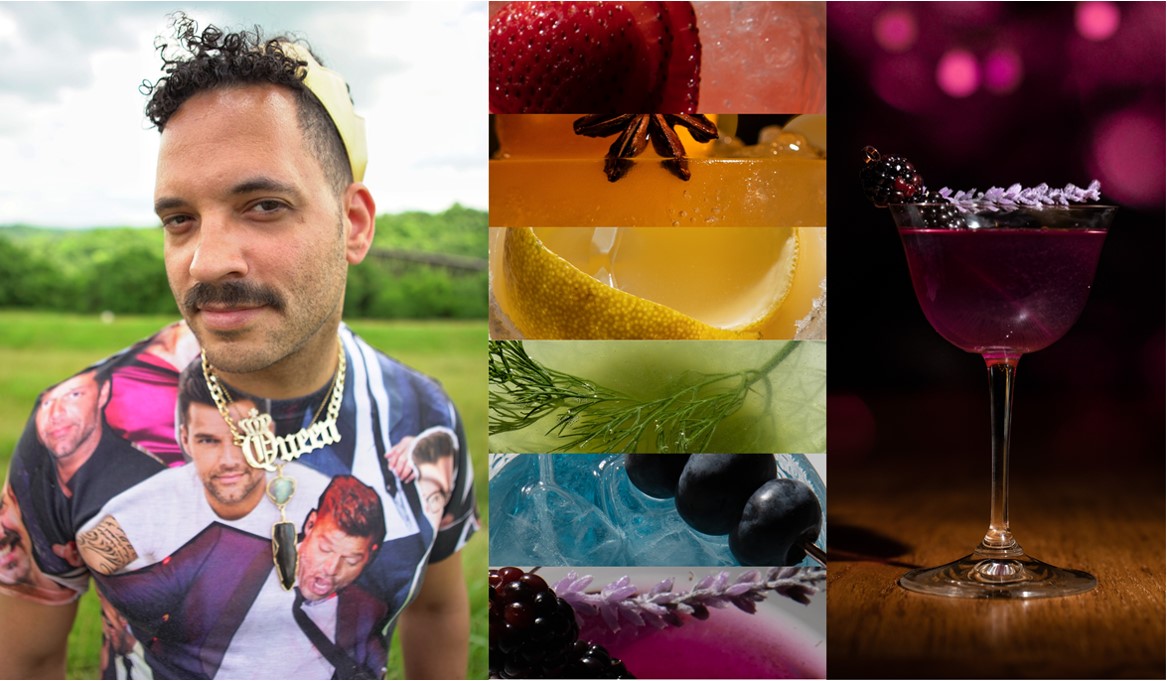 Joe Witkowski (He/Him) stands out in a crowd. Some might think that he stands out because of his impeccable and unmatched style or his bright and warm smile, but for those who know Joe, his indomitable spirit is what sets him apart. Joe is unflinchingly honest about who he is and where he's going, and he is unafraid to share that journey with the many people he encounters as a bartender at one of New Orleans's most beloved establishments that offers the ultimate in after dinner experiences with desserts and cocktails on offer.

Purple represents Spirit on the Pride flag, and Joe's cocktail "Rest Thy Spirit" is a meditation on the color purple, which is one of the iconic colors of Mardi Gras, the biggest event in Joe's hometown. Spirit is infused in everything Joe does and gives meaning to his work. "Rest Thy Spirit" pulls flavors and scents that beautifully enhance the flavors in Chandon Brut.




Ingredients

Cocktail

3 oz Chandon Brut
1.5 oz Blueberry Juice
0.25 oz Demerara Syrup
5 Dashes Lavender Bitters
1 Dash Lemon Bittters
Blackberries and Dried Lavender for garnish

Instructions

Demerara Syrup: Combine 1 cup of turbinado sugar and 1 cup of water in a small saucepan over medium heat and stir until sugar dissolves. Remove from heat, let cool to room temperature and transfer to a clean glass jar. Cover and keep refrigerated for up to 2 weeks.

Cocktail: Build everything except Chandon Brut in shaker tin with ice and shake. Strain into glass and top with Chandon Brut. Garnish with blackberries and dried lavender sprigs.