AUGUST 5-7
CELEBRATE NATIONAL OYSTER DAY WITH US!
On August 5-7, we celebrated National Oyster Day with participating partner restaurants in the Bay Area to help support the Wild Oyster Project. Consumers had the opportunity to purchase oysters at these Bay Area restaurants along with a glass or bottle of By the Bay to support the Wild Oyster Project's mission to help restore native oyster populations in the San Francisco Bay. We invite you to support our continued partnership with Wild Oyster Project by visiting one of our participating accounts.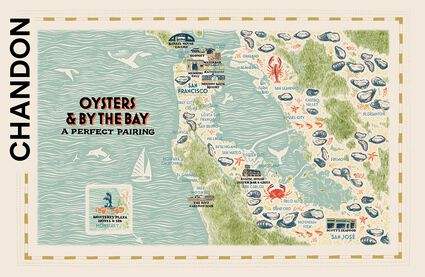 @ RECENT EVENTS

Cheers with a view

Welcome

An Ideal Oyster Pairing

Smile
VISIT OUR PARTNERS IN THE SAN FRANCISCO- BAY AREA SUPPORTING CHANDON AND WILD OYSTER PROJECT

AUGUST 5TH
11:30PM - 2:30PM
399 The Embarcadero, San Francisco
(415) 284-9922

AUGUST 5TH
5PM - 8PM
920 El Camino Real, San Carlos
(650) 935-2129

AUGUST 5TH
11:30PM - 2:30PM
200 South 1st Street, San Jose
(408)971-1700

AUGUST 6TH
11:30AM - 2:30PM
1965 Al Scoma Way, San Francisco
(415) 771-4383

AUGUST 7TH
11:30AM -2:30PM
1 Miramontes Point Rd, Half Moon Bay
(650) 712-7000

AUGUST 7TH
2PM - 5PM
400 Cannery Row, Monterey
(877)862-7552
DID YOU KNOW?

1 adult oyster can filter up to 50 gallons of seawater every day

Oyster reefs provide refuge and critical habitat for many other marine species

Oysters take on the flavor of the bay or estuary where they grow up. Like wine, oysters have merroir that reflects home