Home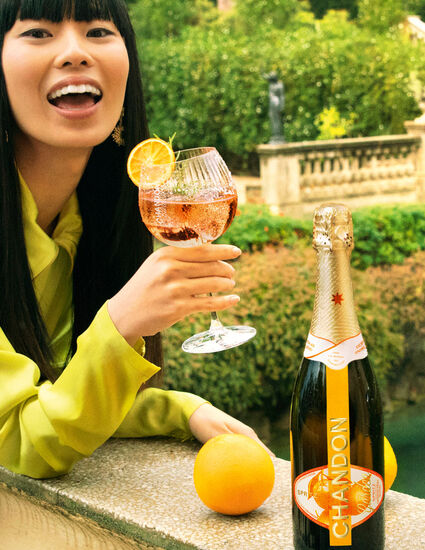 5 TIPS TO HOST THE ULTIMATE APERITIF HOUR
Learn to host the perfect aperitif hour starring CHANDON Garden Spritz — from curating the smallest of details for garnishes and glassware to selecting the perfect pour.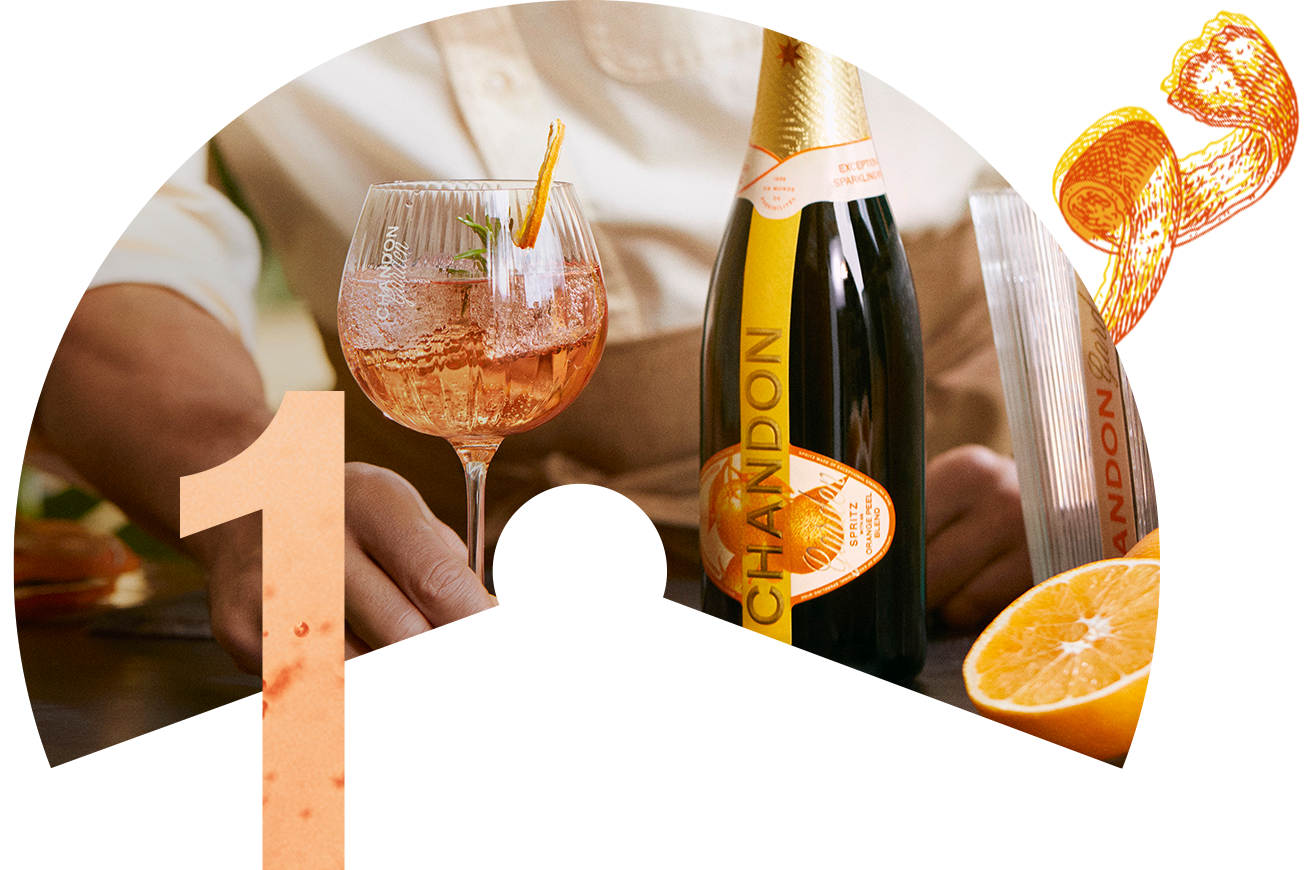 CHOOSE YOUR REFRESHMENTS
Kick off your perfect aperitif hour serving CHANDON Garden Spritz, a subtly sweet pour authentically handcrafted by our winemaking team in Argentina. The ingredients include exceptionally crafted CHANDON sparkling wine with artisanal recipe bitter-orange liqueur made from locally sourced fresh herbs and spices with orange peel for a bitter aromatic note, made from handpicked and ripe Valencia oranges. Both refreshing and delicious, CHANDON Garden Spritz goes perfectly alongside light bites.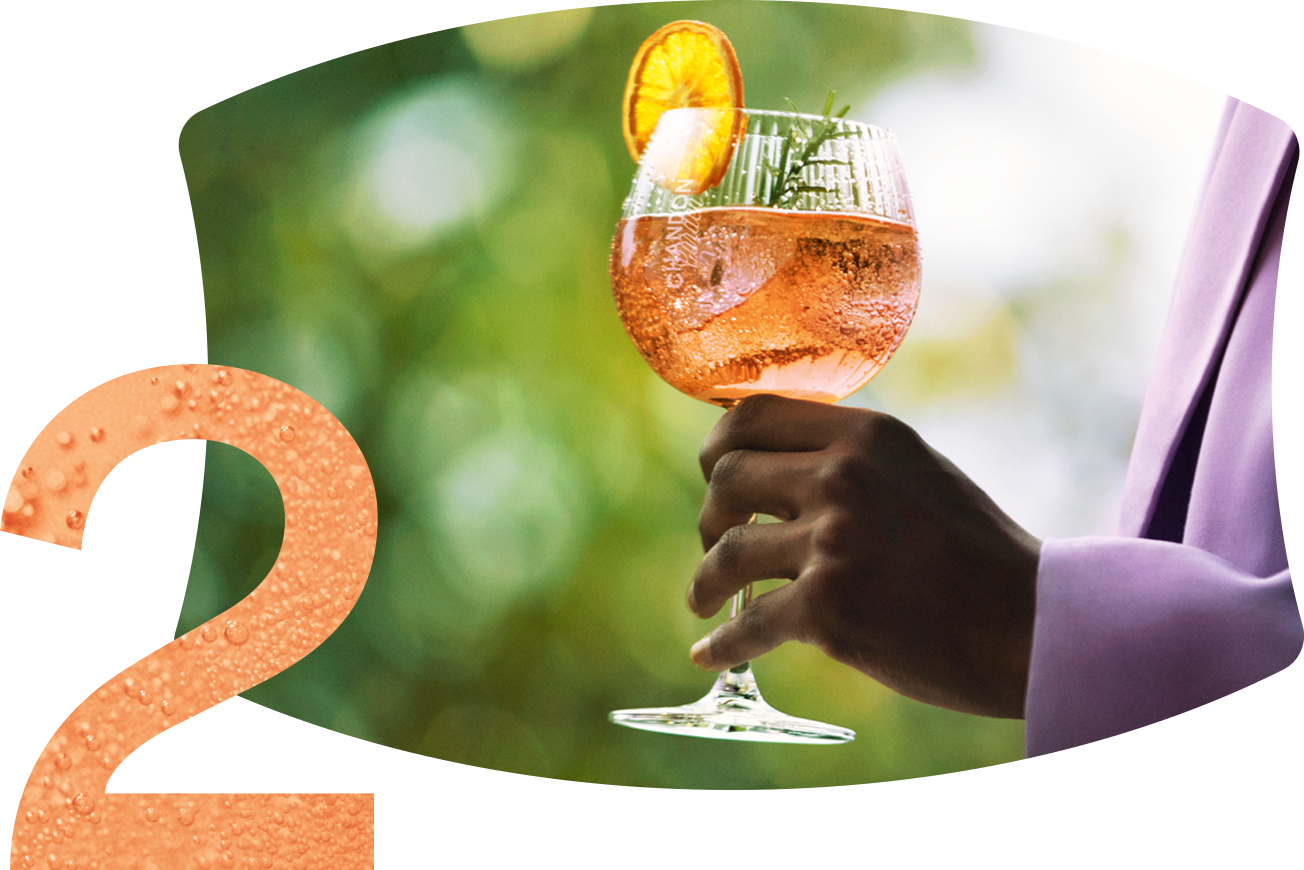 SELECT PROPER GLASSWARE
Make sure you have the proper glassware and ice. For the CHANDON Garden Spritz, pop the cork, and pour over 3-4 ice cubes to chill. To best enjoy the eye-catching rose-gold tones reminiscent of summer, serve in a clear balloon-style glass.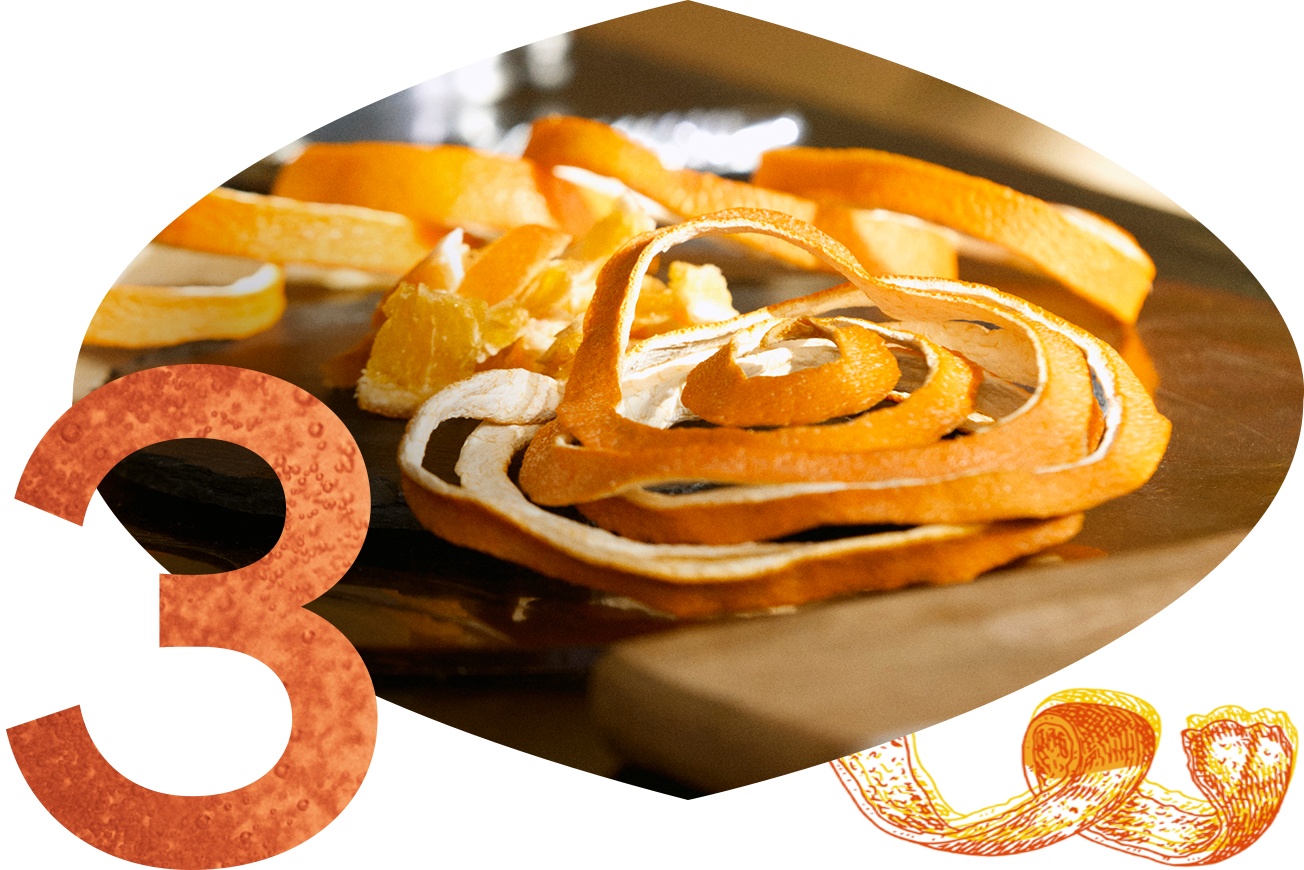 GARNISH ACCORDINGLY
For the perfect presentation, add garnishes. A sprig of rosemary and a slice of dried orange are the ultimate finishing touches when serving CHANDON Garden Spritz. Better yet, rosemary is a low-maintenance plant to grow in your garden or a small pot to have a garnish on hand whenever you need it.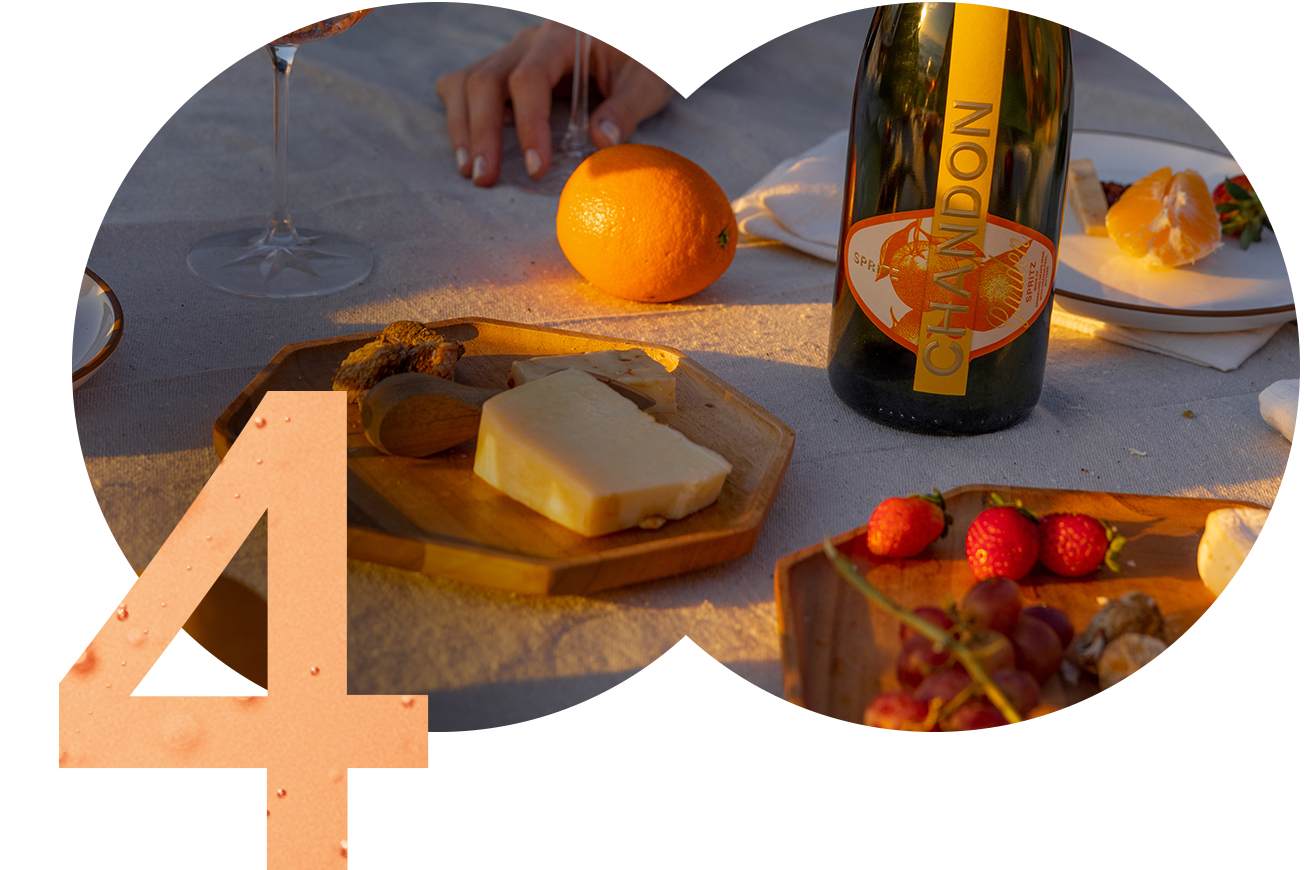 OFFER LIGHT BITES
You can't host a happy hour without serving a small bite alongside. Pair dried fruits such as apricots with a sharp aged cheddar and thin crackers to enjoy alongside the CHANDON Garden Spritz, or wow guests with a spicy Asian dish or some sashimi.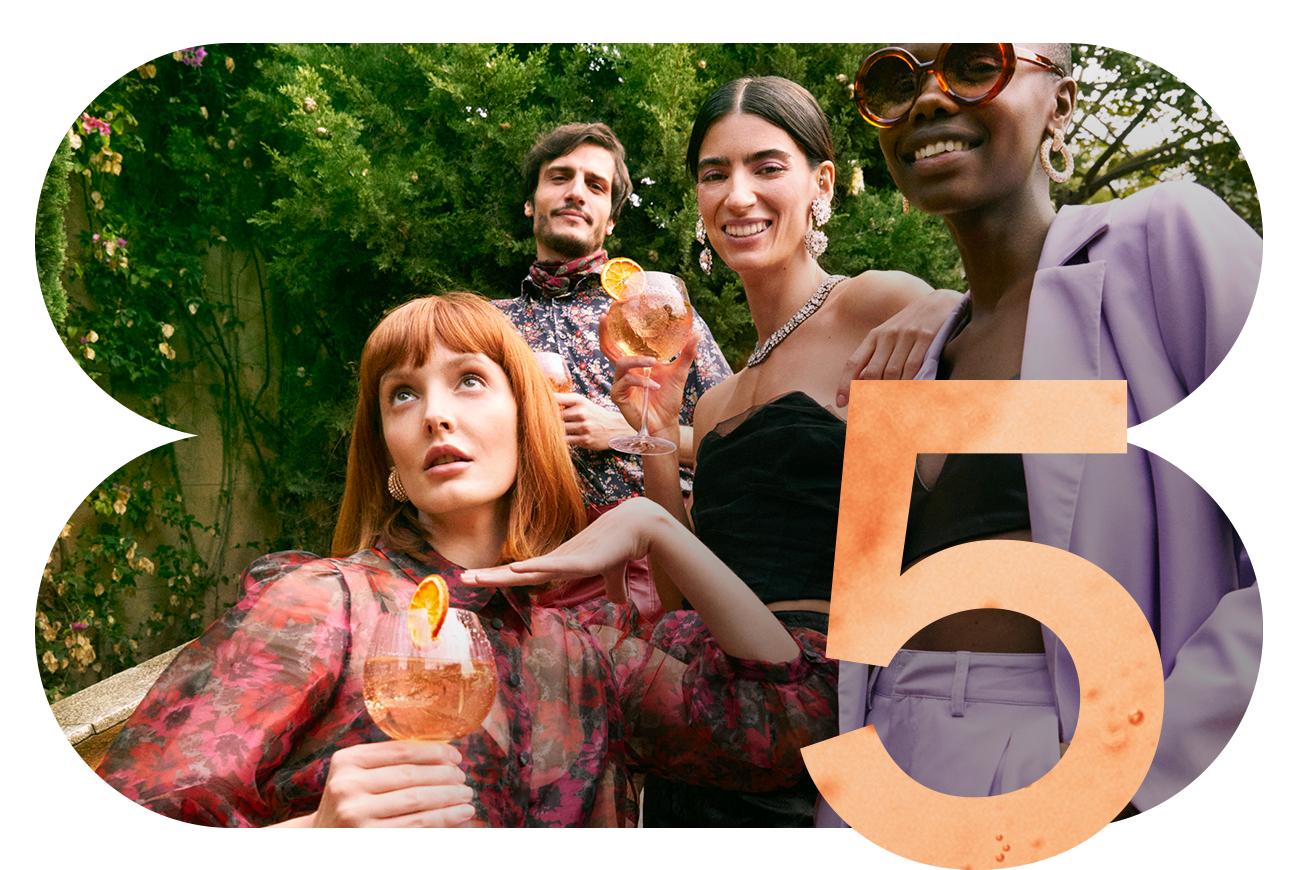 CREATE THE ATMOSPHERE
Host your happy hour anywhere you want a little taste of summer — whether it's your backyard patio, a local park, or even your dining room with some tunes to bring a summer vibe. CHANDON Garden Spritz comes ready to serve, making it a convenient, yet elevated pour for wherever you wish to enjoy.
A SPRITZ FOR ANY SEASON

GARDEN SPRITZ
SPRING & SUMMER
Ingredients:
6 oz CHANDON Garden Spritz
Ice Cubes
Garnish:
Rosemary
1 Orange Slice

GARDEN SPRITZ
FALL & WINTER
Ingredients:
6 oz CHANDON Garden Spritz
Ice cubes
Garnish
Cinnamon stick
1 orange slice