CREATING
JOYFUL EXPERIENCES IS WHAT WE DO
These are the wines that make us who we are. Exceptionally crafted, always excellent. We'll share what makes the Chandon style pop and how we craft a variety of wines, each with its own distinct personality. Like étoile Rosé, our commitment to crafting the ultimate sparkling wine, resplendent with raspberry and notes of cocoa on its subtly complex palate.
2-6 Guests, $55 per person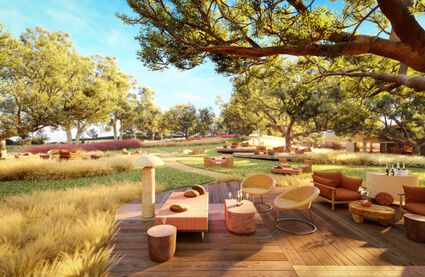 COMMUNAL TASTINGS
Outstanding sparkling wines taste even better when discovered in the company of new friends. Join us at our communal tasting series as we explore the craft of our likeminded partners and our pledge to maintaining a happy, healthy environment.

OCT 1ST & 8TH
OYSTERS: CLEAN-WATER HEROS
We're pairing California's treasure of the sea with a trio of CHANDON Blanc de Blancs while we learn about fostering a symbiotic environment between land and sea with the Wild Oyster Project, and how we all can do our part.
RESERVE

SEPT 16TH
SCENTS OF SUMMER
Bask in the summer mood. Sip Chant des Cigales paired with the flavors and tones of its homeland, the South of France. With our greenhouse partners, we're creating a lavender oil atelier to transport you to the Mediterranean.
RESERVE
Join
and receive
unique curated tastings, VIP Club lounge
at the winery, and
special pricing
on winery experiences.
EXPERIENCES FOR GROUPS
6 - 16 GUESTS

GARDEN SPRITZ CABANA
A unique multi-sensory experience of CHANDON Garden Spritz in our sailcloth cabana. The ideal summer sip poured from the fountain, with a curated pairing menu highlighting each ingredient.
Groups of 8 to 16, $175 Per Person
RESERVE

TOGETHERNESS LUNCH
Our joy-giving family-style lunch experience pairs three Chandon wines that inspire dishes of local ingredients and flavors from around the globe. Our table is your table and everyone is welcome.
Groups of 8 to 10, $105 Per Person
RESERVE

PRIVATE GROUP TASTING
A delicious discovery of elevated CHANDON wines for larger private groups of friends or colleagues. Your host will share their favorite flight with wines like CHANDON Garden Tea– vibrant citrus freshness with elegant floral notes.
Groups of 6-10 guests, $65 per person
RESERVE