THE
DOMAINE
WHERE THE
SUN NEVER SETS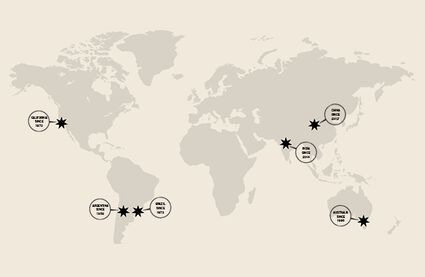 Sixty years ago, Robert-Jean de Vogüé and an assortment of his closest friends set out ot redefine luxury sparkling wine. They decided the only way to bring it into the modern world was to take it far, far from home. That journey of rediscovery began in Argentina and eventually took them to California, Brazil, Australia, China, and India. When we say the sun never sets on CHANDON, we mean it quite literally.
CHANDON now calls four continents home. Each of our terroirs has posed its own challenges - but CHANDON loves nothing better. We are a worldwide family; together, yet separate, sharing our knowledge and united by inspiration. The accents may be different, but yes, we speak the same language.
OUR
BIGGEST DIFFERENCES
ARE OUR
GREATEST STRENGTHS

Argentina
Mendoza, 1959
CHANDON Argentina, the first product of Robert-Jean de Vogüé's vision. The birthplace of CHANDON, and the first step of many. From here, a world of unique sparkling wines opened up.

California
Napa Valley, 1973
Our home of CHANDON California was the next territory to beckon, after Robert-Jean de Vogüé encountered John Wright in a chance meeting. On terroirs found by Wright and under the direction of Dawnine Dyer, CHANDON California has grown into what we know and love today.

Brazil
Serra Gaúcha, 1973
Founded in the same year as CHANDON California, Serra Gaúcha's high altitude and plentiful rainfall provided all the qualities needed to produce exceptional quality sparkling wine. Philippe Coulon, Chief Winemaker at Moët & Chandon at the time, pioneered CHANDON Brazil's winemaking operations.

Australia
Yarra Valley, 1986
California's John Wright and Brazil's Philippe Coulon identified Australia as the next major stop for CHANDON, tapping a new domestic market and exploring the potential of bringing CHANDON sparkling to Asia. Legendary winemaker Tony Jordan was tasked with guaranteeing CHANDON Australia's future.

China
Ningxia, 2013
In 1985, a team of experts led by Philippe Coulon identified Ningxia as having high potential for winemaking. Almost 30 years later, CHANDON China was established in China's top premium winemaking region.

India
Nashik, 2014
Following in the pioneering and entrepreneurial footsteps of our founders, CHANDON India is pure CHANDON spirit: crafting innovating bubbly from unusual grapes in an unexpected land.
CLUB CHANDON:
FOR
WINE ENTHUSIASTS
WITH THE
CHANDON SPIRIT

COLLABORATIVE
For those who want to be part of a global community, or gather their community with a bottle of bubbles.
Members are the first to know about new events, experiences, and wine releases and have the opportunity to provide feedback and participate in the growth of Club CHANDON.

COURAGEOUS
For those with the courage to try new wines, or to stay faithful to the classics.
With the power to pick and choose the wines in your shipment, you control your adventure.

INNOVATIVE
For those who want to buck convention, or stay ahead of the pack.
Club members receive first access to the new wines developed by our expert winemakers, like Garden Spritz Tea.