WHY WE WORK TO PROTECT OUR LANDS
At Chandon California, we take the responsibility of caring for the land seriously, grateful for its vital role in creating our wines. We're committed to sustainable farming practices that consider the entire ecosystem, from the vines on which our grapes grow to the other plant and animal life in our environment.
Our Winegrowing Director, Carlos Danti takes this commitment to heart. In his 22 years with Chandon — first at our Argentina vineyards before joining us at Chandon California — he's witnessed many changes in farming practices that show greater reverence for the lands.
We spoke to Carlos about our latest efforts in responsible farming and sustainability and why they're so important to him. "It means a lot because it's also in our DNA," he said. "For products that we make, our interaction with nature, we need to be very careful about the way we treat the land we use."
By approaching our ecosystem as a whole, we ensure that we not only will be able to continue to grow the grapes for our award-winning wines, we'll be able to maintain the quality and character of our terroir into the future.
"For me, it is super important to make sure the wines we are making today, we can make tomorrow," Carlos said.

"WE CAN LEAVE THE LAND
IN THE SAME OR
BETTER CONDITION FOR THE NEXT GENERATIONS TO COME."
In this first installment of a two-part series, here are some highlights of how we work to conserve our water usage and protect our soils.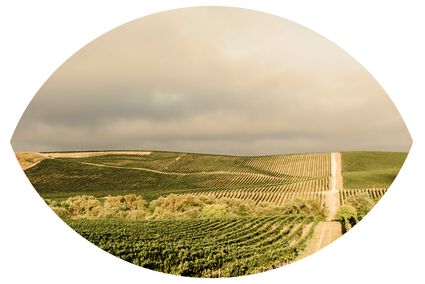 Soil and Water Are Precious To Us
Our vines grow naturally very well in our California soils and weather, but we work diligently every year to help them thrive. While sunshine is an abundant resource in Napa, we also make sure we maintain nutrient-rich soils and are careful and purposeful in the water we use.
Not all of the grapes we grow at Chandon California require the same amount of water. We gather precise information on the level of water in the soils and use this data to make sure every drop of water we apply is needed. In seasons when natural rainfall is low, we adjust the farming operations to reduce water consumption in the vineyards. This way, the vines can continue delivering the grape quality needed with less water consumption and evaporation from the soils.
For more than 90 percent of the vineyards that we do irrigate, we use "recycled" water from nearby areas that was used for other purposes like cleaning, then recaptured and treated to be ready to use again.
A standard practice would be to add fertilizer to the soils to compensate losses from crops. Starting with a holistic approach we have been able to reduce fertilizers to a minimum. We utilize other crops (called cover crops) in the off-season to maintain soil fertility and avoid erosion from winter rains. Composting has also helped us "build" our soils, making them rich in organic matter and nutrients, which results in a better capacity to hold water. This helps our soils hold more water and keep more nutrients to enrich our vines.
We've even completely eliminated the use of synthetic herbicides in our vineyards. And the benefits aren't just good for our lands. They're good for our wines.
"This has all proven to be a very good way to also stay true to the expression of the terroir in our vineyards," said Carlos.