A REAL TREAT
LOBSTER ROLLS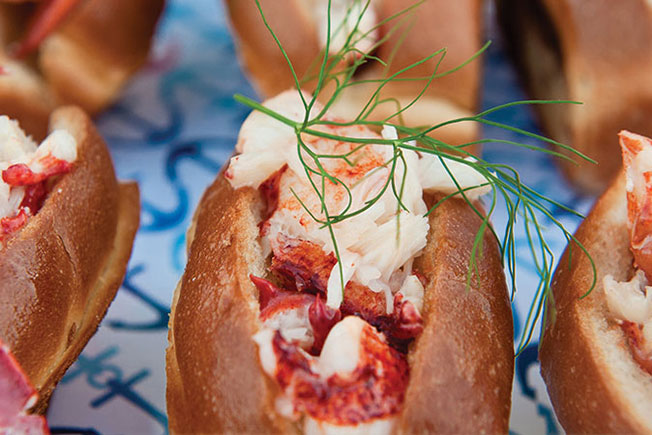 A REAL TREAT
LOBSTER ROLLS
Like all dishes with a strong heritage, lobster roll fans argue over the best. You be the judge.
INGREDIENTS
2 cups cooked lobster meat (four 6-ounce tails or two 1½ pound whole lobsters)
1 Tbsp fresh lemon juice
1 Tbsp fresh lime juice
2 Tbsp chopped fresh chives
4 high-quality hot dog buns or New England style rolls
1/4 cup melted butter
Lemon and lime wedges
Preheat the oven to 350° . Chop the lobster meat into 1-inch pieces. Put in a bowl. Add the lemon juice, lime juice and chives. Stir to combine. Brush the inside of the rolls with the melted butter and place on a baking sheet. Bake until slightly toasted, about 5 minutes. Split open the rolls and scoop equal amounts of the lobster mixture into each roll. Drizzle the top of each roll with butter. Serve. Place the remaining butter and lemon and lime wedges on the table for guests to add as desired.
The Ultimate Comfort Food
LOBSTER MAC & CHEESE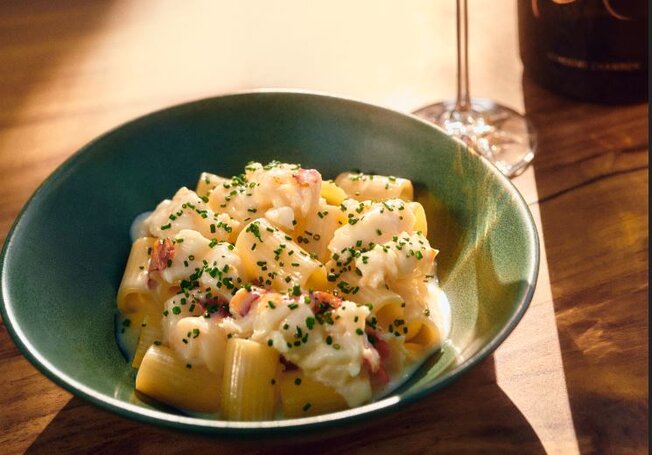 The Ultimate Comfort Food
LOBSTER MAC & CHEESE
If you are looking for a decadent treat, look no further than this delicious and comforting dish.
INGREDIENTS:
9 oz Torchio pasta
1 gallon Water
1 oz Sea Salt
10 oz Cheese Sauce
6 oz Lobster Meat
Add salt to water and bring to a boil. Drop pasta and cook for 10 to 13 minutes. While pasta is cooking, using a sauce pot, bring cheese sauce to a simmer. Once cheese sauce is at a simmer add lobster meat. Then add cook pasta, stir and enjoy! Garnish with chives.
OSCAR WINNER
TRUFFLE POPCORN

OSCAR WINNER
TRUFFLE POPCORN
This popcorn might be too good for the movies. Just be cautious with the truffle oil, a little goes a long way.
INGREDIENTS
6 Tbsp unsalted butter
1 Tbsp minced black truffle (optional)
1 Tsp white truffle oil
Salt
3 Tbsp vegetable oil
2 cups popcorn kernels
Freshly ground pepper
In a small saucepan, melt the butter over low heat. Stir in the truffles, truffle oil and a pinch of salt; keep warm. In a large, heavy pot, heat the vegetable oil. Add the popcorn kernels, cover and cook over moderate heat until the popcorn starts popping. Continue cooking, shaking the pan continuously, until the popping has almost stopped. Carefully pour the popcorn into a very large bowl, add the truffled butter and toss well. Season with salt and pepper and serve right away.
ELEVATE YOUR BBQ
BBQ OYSTERS WITH SPARKLING BUTTER SAUCE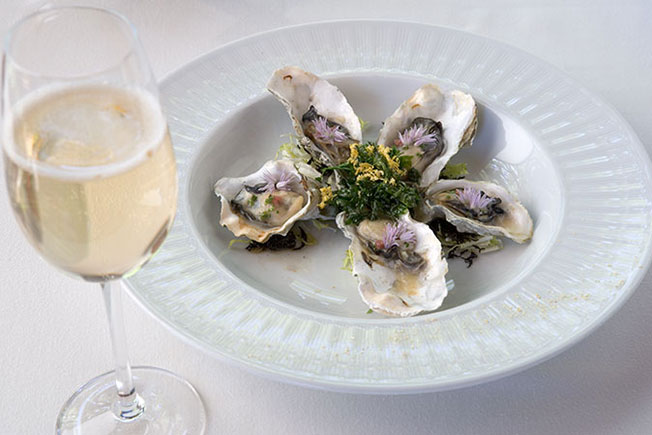 ELEVATE YOUR BBQ
BBQ OYSTERS WITH SPARKLING BUTTER SAUCE
A little sweet, a touch briny—fresh oysters are so delicious and versatile, we can't decide how we like them best
INGREDIENTS
2 Tbsp shallots, minced

1 cup sparkling wine

1/3 cup sweet cream butter, brought to room temperature

1 Tbsp fennel seed, toasted and ground

1 Tbsp salt to taste
In a small pot place shallots and sparking wine and reduce by 50%. Set aside to cool. In a small bowl mix all ingredients together. To serve: Place a small dollop of butter mixture on top of each oyster. Place oyster on BBQ and cook until desired temperature.
JOIN THE CLUB
Join the club and become immersed in the ultimate Chandon experience..
CLUB CHANDON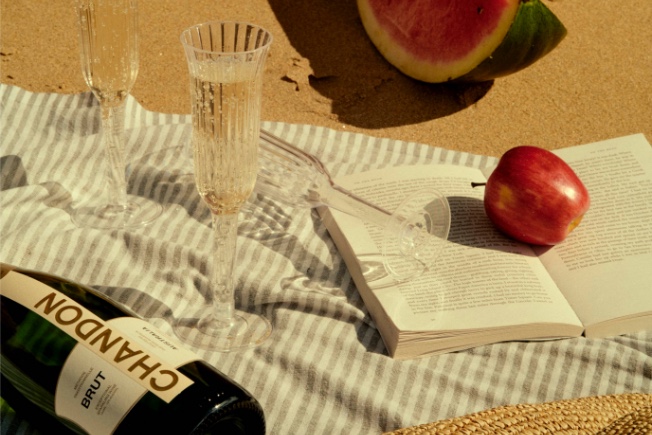 Let us guide you on a journey, to discover premium sparkling wines. Club Chandon is a rich community of wine enthusiasts who share lasting memories and award-winning wines with friends new and old.
As a Club Member, you'll receive first access to fully customizable shipments of Chandon right to your door, including limited editions and special cuvées crafted exclusively for members. You'll also receive invitations to members-only events, special pricing to our winery experiences, and access to exclusive areas of our estate.