We've fearlessly redefined the essence of rosé. In collaboration with former head winemakers from Dom Pérignon and Krug, we've shattered conventional wisdom and unleashed the club-exclusive CHANDON Chant des Cigales from the confines of traditional rosé. Translated from French, "The Song of the Cicadas", we're toasting to the warm South of France in every note. We've returned to the birthplace of rosé, masterfully blended 8 grape varietals into a cohesive expression, and created a new category of rosé. All it took was the courage to defy the ordinary.


A NEW SOUTH OF FRANCE
We set our sights on Provence, the birthplace of rosé, for our new venture. But from the outset, we could see the South of France had evolved. It had blossomed into a vibrant melting pot of creative, energetic people who are independent, engaged, and bound by a profound sense of community. The region had transcended its geographical identity and come to embody an ethos of openness, freedom, and shared experiences. This essence, we knew, was what we needed to capture.
We took the signature grapes of the South, moved away from the confines of terroir, and applied the trio's accumulated expertise in sparkling wine to craft a vin d'auteurs: a masterful blend as fresh and dynamic as this unique scene.
The result is CHANDON Chant des Cigales: a breakout style of contemporary rosé about daring to try something new.
.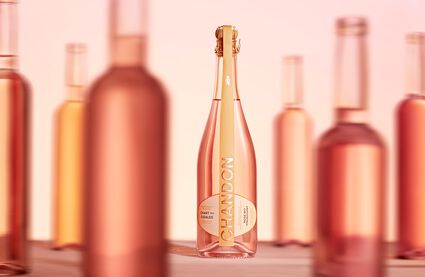 TRADITION WITH A TWIST
Imagine the Chant des Cigales is a daring ensemble of eight grape virtuosos, each a star in the South of France rosé scene, yet never before seen sharing the same stage, let alone in a sparkling performance. The cast includes Grenache, Cinsault, Syrah, Rolle, Cabernet Sauvignon, Mourvèdre, Carignan, and Tibouren. "Iconic," Audrey Bourgeois declares, "but wholly unexpected for a sparkling wine." Each brings a unique flair to the composition.
Grenache takes center stage, exuding warmth with its red-fruit character and smooth mouthfeel. Syrah, ever the provocateur, darkens the fruit flavors while introducing an enticing hint of spice. Meanwhile, Rolle and Tibouren grace us with delicate fruitiness and floral notes. Mourvèdre, Carignan, and Cabernet Sauvignon lend a touch of mystique, providing subtle tannins and painting the wine in the most enchanting shade of pink. Their artful blending bestows an irresistible aromatic allure. Cinsault, the blend's diplomat, tames its bolder counterparts and imparts a supple elegance to the composition.
Each varietal offers its own signature essence, but our ultimate pursuit is one of balance and harmony rather than individual distinction. We strive for a seamless symphony, and with such a vast palette, the stakes are high. Precision and expertise are not just desirable; they're necessary. When executed with finesse, these varieties coalesce into a captivating blend that lures and captivates — and the Chant des Cigales does just that.
Just when you think you've unraveled the intricacies of this wine's complexity, dare to add an ice cube and witness a transformation. Watch as the bubbles reignite, and the flavor profile subtly shifts, unveiling a refreshing minerality and even more intoxicating floral aromas, driving the wine into a new aromatic dimension. Ice in rosé? Unconventional, perhaps – but in this case, it's an absolute revelation.




THE ROSÉ UNLEASHED
Some look at the past through rose-tinted glasses. We prefer to look at the future that way. The South of France is more dynamic and exciting than ever. It requires a new expression in wine. A composition to break the rules. A new taste experience. In every drop of Chant des Cigales, you'll hear the song of the new South.