At CHANDON, we create wines to be enjoyed by everyone — from experienced connoisseurs to those who may just be beginning their journey in exploring the world of sparkling wines.
Even for experts, sparkling wine terms can sometimes be confusing or intimidating. Learning some simple definitions can help make the world of sparkling wine feel more open — and maybe help you discover new favorites along the way.
Here are some terms to know:
SPARKLING WINE SWEETNESS LEVELS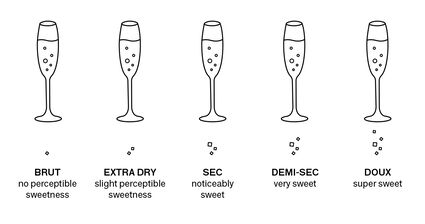 FERMENTATION
The action of yeast on natural grape sugars that results in creating alcohol and carbon dioxide. Sparkling wines are fermented a second time in the bottle, trapping the carbon dioxide to create bubbles.
RESERVE WINE
Wine from previous vintages added to the cuvée to maintain a consistent quality and style.
ROSÉ
A sparkling wine that gets its slight pink tint from the wine coming in contact with red grape skins.
SPARKLING WINE
A wine with bubbles created by natural fermentation.
STILL WINE
A wine with no bubbles.
TÊTE DE CUVÉE (tet-de-KEW-vay)
Loosely translated as "top blend," refers to the very top range of a sparkling house's wines.
TIRAGE (teer-RAJ)
The process of bottling the cuvée with the addition of active yeast and sugar to induce a second fermentation.
VARIETALS
Different types of grapes used in making wine.
VINTAGE
The year in which grapes in wine are harvested. It refers to sparkling wines with cuvées containing wines from a single harvest.
RELATED STORIES

HOW SPARKLING WINE IS MADE
Get a complete overview of the method we use to make sparkling wine at CHANDON, known as the traditional method.
READ MORE