GATHER YOUR FRIENDS FOR A SUMMER PICNIC POTLUCK
This is not a drill! Summer entertaining season is upon us, and it's time for outdoor gatherings with good friends and exceptional wines.
Put that patio furniture to good use and enjoy some bubbles in the backyard. Try this elevated take on a picnic with plenty of sparkling to go around.
THEY BRING THE FOOD, YOU BRING THE WINE
Relieve the prep pressure with a potluck. Choose your guest list, and invite everyone to bring a dish.
You can start a text thread so guests can reveal what they're planning to bring. Let them know you'll handle the drinks.
Here are some suggestions to have on hand to cover all the bases.

FOR THE APERITIF:
CHANDON GARDEN SPRITZ
Start off your summer event with a perfected spritz. A secret artisanal recipe blends our own housemade bitter-orange liqueur with exceptional sparkling wine. It's ready to serve, ready to share — ideally drenched over ice with a sliver of dried orange and a sprig of rosemary.
SHOP

IF THEY BRING: PASTA SALAD, PULLED PORK, DEVILED EGGS
CHANDON RESERVE BRUT
Reserve Brut is the perfect catch-all that pairs well with almost any food. Structured, complex, and robust, it opens with hazelnut, boysenberry, and nectarine notes on the nose, leading to intense flavors of yellow peach, red berries, and candied ginger.
SHOP

IF THEY BRING: BURGERS, KALE SALAD, SHRIMP KEBABS
PINOT NOIR ROSÉ
A backyard burger's best friend, our Reserve Pinot Noir Rosé is also versatile enough to complement most dishes. It bursts with aromas of plum, pink peppercorn, and Fuji apple, supported by baked red apple, black cherry, and strawberry flavors.
SHOP
SET THE SCENE FOR SUMMER MAGIC
With food and drink covered, you can focus on creating a welcoming space for everyone.
Start with making sure you have enough table space for your guests' dishes — consider some in the shade for cool dishes if possible. Have a nearby beverage station with ice buckets, and make sure you give your additional bottles time to chill.
To recreate a true picnic vibe, lay some blankets on the lawn. You'll also want to make sure you have enough other seating options. If you're going big with your invite list, folding chair rentals are convenient and easy.
As golden hour turns to dusk, have some lighting options on hand so the party doesn't have to end as soon as it gets dark. String some fairy lights or lanterns in the trees to create an ambient glow when the sun goes down.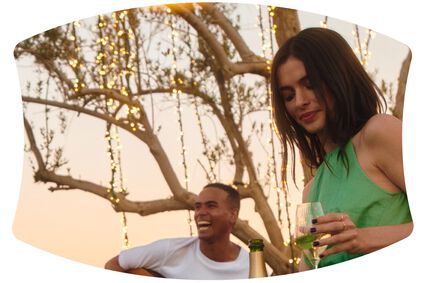 THE FUN DOESN'T HAVE TO END AFTER THE POTLUCK
Create a welcoming and chill environment that will invite everyone to stick around after the food. Ask for suggestions for a party playlist in your invite text thread, and turn up the backyard Bluetooth speakers to keep the energy going.
Have a little informal wine tasting with small pours of each wine. Let everyone note what they pick up from each wine and which one is their favorite.
If you opted for a lunchtime start and still have plenty of daylight, consider outdoor games like badminton or bocce ball for a little friendly competition. If you want to relax while you compete, provide an array of favorite board games.
Or turn the evening into dinner and a movie with a backyard projector and grab a blanket spot for a drive-in feel.