IRRESISTIBLE BITES + PAIRINGS FOR YOUR NEXT PICNIC
When the sun's out, you know what that means: Your picnic basket is beckoning. We've got all the inspiration you need to fill it to the brim, from mouth-watering bites to their perfect sparkling complements. These fully equipped picnic baskets pack up perfectly, taste unforgettably, and are best enjoyed in the sunshine. Just pop the ideal sparkling pairing, and you've got a spread that's sure to impress..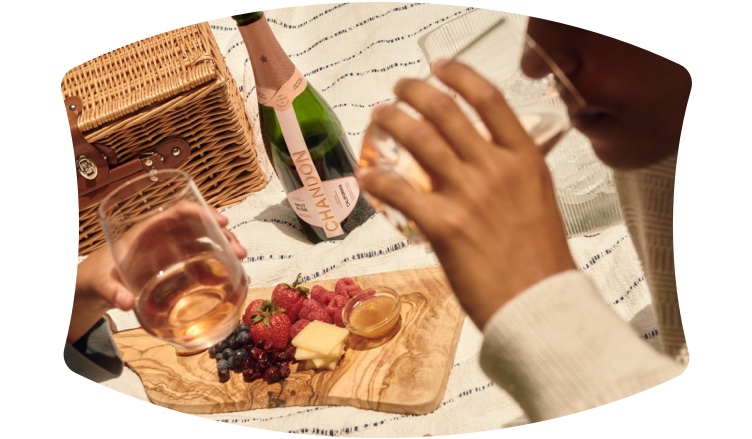 THE CHEESE AND CHARCUTERIE BASKET
Bites to Pack: Camembert, prosciutto, brie, parmesan, baked crackers, and candied pecans
What to Pair: Sparkling Rosé
Tips: Contrary to popular belief, sparkling rosés are rarely sweet, but often refreshingly crisp and dry. Their natural acidic flavors make them ideal pairings to rich charcuterie and flavor-packed cheeses.


THE SANDWICH BASKET
Bites to Pack: Pressed Italian sandwiches, chips with sea salt, fruit salad
What to Pair: Sparkling Red Sangria
Tips: Pressed sandwiches are a cornerstone of picnicking as they can be prepped the night before, and will stay put along the whole journey. A sparkling red sangria is a versatile pairing, as the sparkling red within can stand up to any smoked meats in your sandwiches, while the added fruit flavors of the sangria match fruit salad and other lightly sweet foods.





THE SWEET AND SAVORY BASKET
Bites to Pack: Grilled salmon wraps, bacon quiche, fresh fruit, lemon bars
What to Pair: Pinot Noir Rosé
Tips:This basket is ideal because sparking the fancy of one side of our palate naturally leaves us craving the other. Rosés that incorporate pinot noir boast fruit-forward notes to mirror any farm-fresh fruit on the menu and desserts of the like.





THE VEGGIE BASKET
Bites to Pack: Mediterranean quinoa salad, mixed nuts, beet salad, chopped red peppers and carrots with garlic herb dip
What to Pair: Blanc de Blancs
Tips: When crafting your salad, be sure to use hardy ingredients that won't easily get soggy during travel, and keep the dressing on the side for freshness. Blanc de Blancs is the perfect "catch-all" wine for a diverse spread as it pairs well with anything from light veggies to beets without overpowering.





THE SNACK BASKET
Bites to Pack:Deviled eggs, empanadas, baked crackers with white bean dip, salted popcorn
What to Pair: Chandon Brut
Tips: Bruts pair extremely well with salty foods, making them the ideal complement to this picnic spread. Even if you plan to keep your picnic light, remember to pack enough snackable foods so you don't leave hungry, with enough variety to leave your taste buds satisfied.

Note: Whether your basket is, in fact, a basket, or actually a cooler or an insulated tote, we always recommend making provisions to serve your sparkling chilled. You can chill your sparkling in the fridge for a couple of hours before your picnic, and keep it cool with an ice pack, or make an ice bucket on site with ice and water, and chill for 20 minutes.





If you love learning about delectable bites and their sparkling pairings, Club Chandon has got you covered. Get our finest wines regularly shipped to your doorstep with insider pairing guides and suggestions so you never embark on a picnic empty handed.
Learn More