Even if it's just a chill night with two or three friends, being cocooned in your favorite blanket, popcorn steaming in a bowl, and the lights dimmed low, we can't imagine a more luxurious way to unwind. How could such a relaxing night possibly get any better? Pour a glass of sparkling. Experience a film with the perfect pairing for a night in.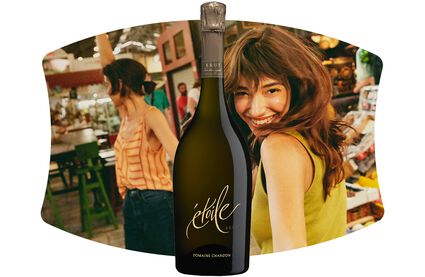 Comedy
If you're watching a hilarious comedy, you'll want a wine as light and bubbly as the movie. May we suggest the CHANDON Étoile Brut? Our ultimate effervescent expression of CHANDON, this opulent cuvée features the best lots of Chardonnay, Pinot Noir, and Meunier. Crisp like a good joke, the Étoile Brut features a fresh and piercing acidity as playful as your favorite comedy sketch. Get a mouthwatering taste of honey, brown spices, and baked apple in every glass.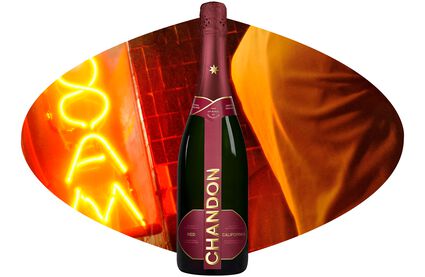 Mystery
The renaissance of the mystery genre reached its fever pitch, and we couldn't be more grateful for the onslaught of irreverent, clever, brain-bending whodunnit plots. If you want a bold wine that takes you for an unexpected ride just like your favorite mystery, look no further than the CHANDON Red Demi-Sec. Start off with juicy, intense fruitiness and, plot twist, wait for the distinctively spicy finish.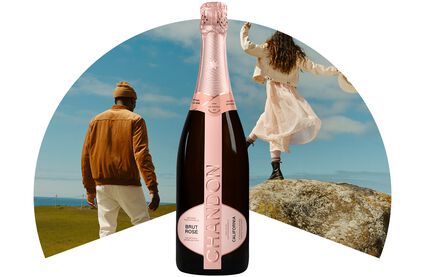 Romance
What night in is complete without a heartthrob to fawn over? Any good romance will have hearts soaring and tears running. Add the CHANDON Brut Rosé to get into the romantics of it all. The fresh aromas of strawberry, watermelon, and cherry will remind you of summer loves, and its floral undertones will have you thinking of wedding bouquets. A fruity finish will make sure that each minute of your romance is as sweet as can be.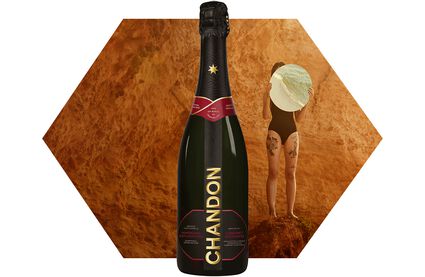 Indie
If mainstream movies aren't your cup of tea, then try an indie film or a documentary. What wine could possibly pair with a genre full of innovative storylines and fresh perspectives? As part of the Winemakers Explorations tier, the Club-exclusive CHANDON Sparkling Cabernet explores inventive and creative approaches to the crafting of sparkling wines. Full of dark fruit flavors and fascinating layers of spicy complexity, its juiciness is balanced by fine tannins and bright acidity.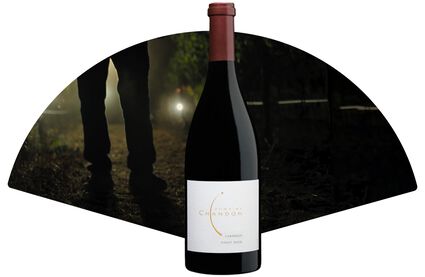 Horror
Make your taste buds feel as alive as you do during a horror film. Awaken your senses with a glass of CHANDON Carneros Pinot Noir. This red wine may seem delicate and fruity, but don't underestimate its lively taste. Its initial flavor is subtle, like a too-quiet exposition, but it has an acidic bite, like a bullet-quick jumpscare. Plus, its cherry undertones give your glass a rich blood-red tint that would have any vampire dying for a sip.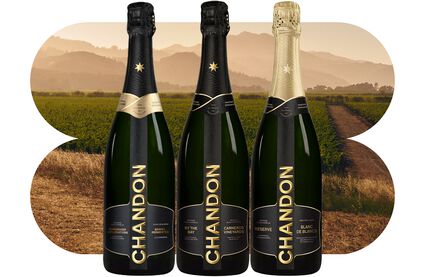 The Blockbuster
Turn your movie night into a movie marathon with back-to-back viewings. Dive into your favorite trilogy with our Chardonnay Set, which presents a uniquely delicious expression of the varietal. During the first movie, enjoy the vibrant acidity and zest of our CHANDON Reserve Blanc de Blancs, and then for your second movie, compare it to our newly released CHANDON Reserve Blanc de Blancs Barrel Fermented to experience how the oak barrel rounds out the flavors. For your final film, try our CHANDON By The Bay, a winemaker and employee favorite that shines on its own and pairs perfectly with most foods. Download this wine tasting kit so you and your guests can keep track of the flavors and aromas you note.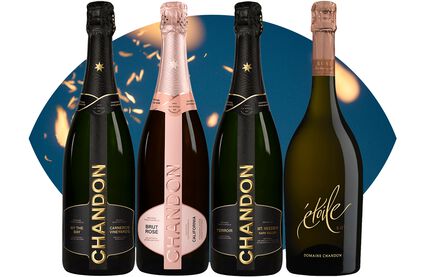 Award Winners
Awards season is here — get ready with our Award Winners Set. CHANDON By The Bay is our ode to Chardonnay, a Blanc de Blancs that pays tribute to our Los Carneros terroir. It has won the gold at the 2022 Women's Wine & Spirits Awards and the 2021 Champagne and Sparkling Wine World Championship. Another favorite is the CHANDON Brut Rosé, awarded the 2021 Sommelier's Choice Award and double gold at the 2022 SF Chronicle Wine Competition. There is also the CHANDON Étoile Rosé, an elegant and rich sparkling wine with layers of fresh plum, raspberry, and nutmeg. Our final award winner is the CHANDON Mt. Veeder Brut 2016 with its rich and generous nose of meringue, pastry crust, and citrus. The palate is bright and creamy with notes of quince paste, brioche, and nougat, with a lingering, refreshing finish.
There's No Place Like Home
You'll never feel more relaxed than after you watch a film with a delicious glass of wine and a few friends. Whether your guests are into rom-coms or want to be scared witless, there's a pairing for every kind of movie night. Here's to more nights like this.